Foods with Flavor / My Food Blog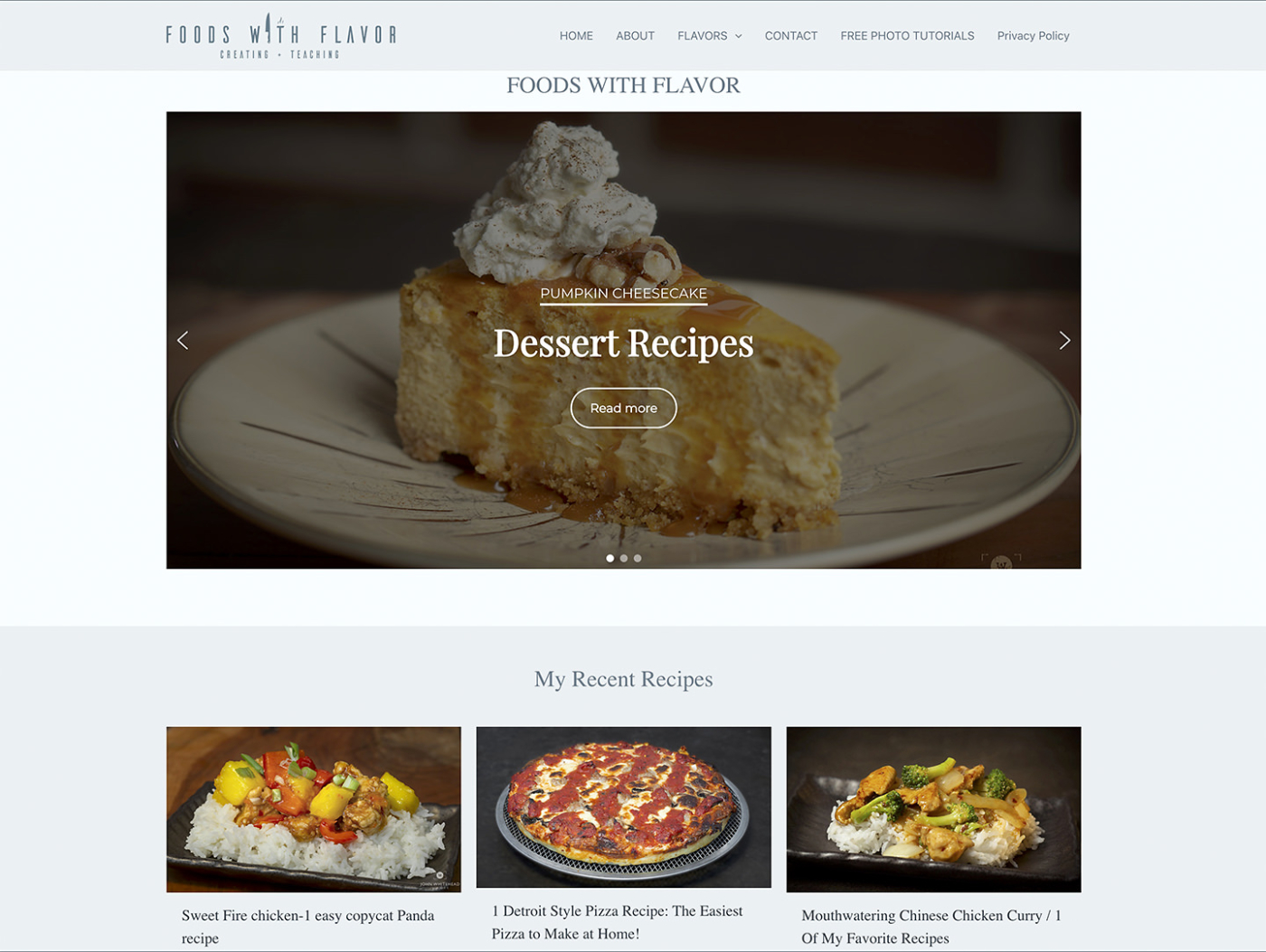 I have always loved cooking and started watching cooking shows on PBS when I was 14. At that time the Food Network did not exist and you were limited to to whatever was showing on Saturday on PBS. My favorite shows were Yan Can Cook, The Frugal Gourmet, Pasquale, and the Cajun Cook. Most people my age were interested in Comic Books, but I would buy cook books. Actually, I liked any book that would teach me something. I do not buy as many books, as I did because I have shifted to YouTube. I watched the Food Network in the beginning. I really like Alton Brown, Emeril Lagasse, Bobby Flay, and then East Meets West. I got rid of cable years ago, and I prefer Youtube. One of my favorite is https://www.youtube.com/@SeonkyoungLongest​.

At the outset of this year, I embarked on a culinary journey by launching my food blog, aptly titled "Foods with Flavor." As the name implies, I'm no advocate for lackluster dishes. It's safe to say that it will likely take me a solid year to curate a substantial repertoire of recipes across various categories on the site. My aspirations, however, extend far beyond the immediate horizon.
I recognize that the world of food blogging is fiercely competitive in the vast expanse of the internet. Still, my primary motivation lies in crafting a diverse collection of recipes that cater not only to my own palate but, more importantly, to the discerning taste buds of my daughter. She happens to be quite selective when it comes to food and has particular preferences that don't align with everything I create.
In truth, I've become quite adept at crafting dual versions of a dish—one tailored to the youthful palate of my child and another designed to delight the more sophisticated tastes of an adult. In the end, if my culinary endeavors culminate in an extensive recipe collection that brings joy and satisfaction to my daughter's dining experiences, I will consider it a resounding success.
If your passion lies in the world of culinary arts or the realm of home cooking, you'll find a treasure trove of recipe categories awaiting your exploration on my blog. These categories encompass a rich tapestry of culinary traditions and flavors, ensuring there's something for every palate. Among the diverse categories currently available are Chinese cuisine, Italian delicacies, Greek specialties, soulful Southern fare, classic American dishes, the spicy delights of Spicy Food, irresistible Desserts, comforting English and Irish fare, an assortment of Breads, flavorful Mexican cuisine, the vibrant offerings of Southwestern cuisine, and much more still in the pipeline.
Each page on my blog is thoughtfully crafted to enhance your culinary journey. It includes a smattering of background information about the dish, an intriguing "Ingredient of the Day" feature, a step-by-step guide to prepare the dish, a touch of humor with the "Joke of the Day," an interactive platform for comments and ratings, and, of course, a comprehensive and meticulously detailed recipe. So, whether you're an amateur chef looking to hone your skills or simply a food enthusiast seeking delightful new recipes, there's a little something for everyone to savor and enjoy.
If you have some time, check it out, I will be adding a variety of recipes over 2023. After that look for a series of complex fusion. ​